How Many Quantity Can Start Skincare Business?
We have 2 options for private label skincare minimum order quantity,
Option A: ≥ 5000 pcs per productOption B: ≥ 500 pcs per product
In the skincare industry, normally all skincare factories minimum order 5,000 pcs for private label skincare. Because be a manufacturer ,all of your goods are made by large machines rather than by hand filling. Machine filling can ensure the effectiveness and safety of the product.
What is more, in order to offer a unique formula and packaging of skin care products, we cooperate with different packaging suppliers.
We need to purchase the empty tube/bottle/Jar packaging from other packaging suppliers. Normally the packaging factories MOQ 5,000 PCS each. Some big companies' MOQ raise to 10,000 pcs.


We know that everyone has a brand dream. We would love to help those small companies to do their own skincare brand in small quantities, so we have bought some empty tubes/bottles stock in our warehouse.
Based on this, we offer two options for private label service. One option private label minimum order quantity is 5000 pcs, and the other one is accepting small orders for some items. But the customized service is a little bit different.
Please check below for the difference.
1. First option (MOQ≥ 5000 pcs per product)
We provide fully customized service that will make your product totally unique and innovative in the market.
①. We can customize the formula to your needs/sample, the samples will be offered for you to test until you are satisfied. 
②. A variety of packaging can supply you to choose to do your brand.
③. The empty tube/bottle/component packaging can customize by your design.
④. The packing can be fully customized. Such as customized paper boxes, display boxes, white boxes, etc.
PS: Box&Tube can be customized by any PANTONE COLOR.
Example
After you confirm the product want to do, we will provide the print area for you to make the tube, and packing design, as below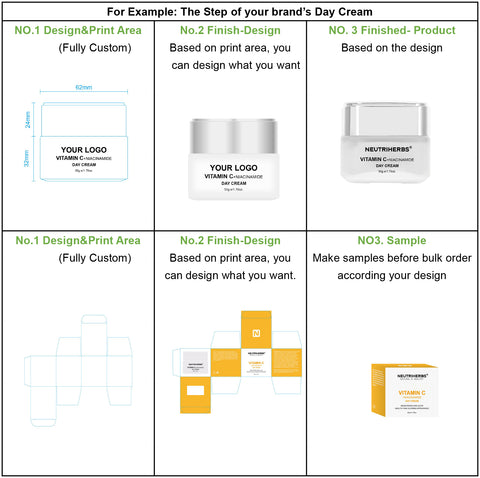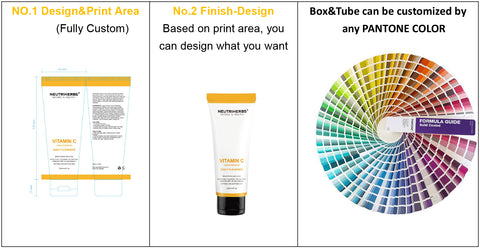 2. Second-option( MOQ ≥500 pcs per product)
Some of our existing products can be customized your logo in 500pcs only. (Final quantity is based on the the product you want)
This option can only use our existing formula and packaging.
①. The tube/bottle(existing packaging we have) can print your logo on it. But the color of the box can't be changed.
②. The outer box can be fully customized. The box can be customized to any color, or add any information on it.
③. We can help you do free design. 
Example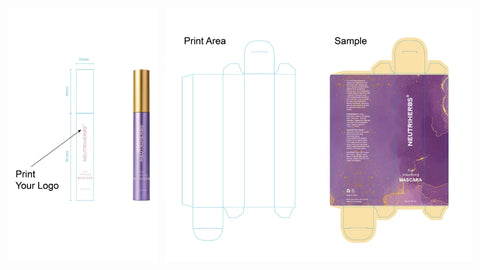 Whatever you need, we've got it for you. Let us help you get started in your skincare business!