Kojic Acid Soap For Whitening Skin
Amarrie Cosmetics is a manufacturing company that produces soaps for the skin. We  also produce other beauty products that include best-selling face soaps and face creams for beauty and whitening.
One of their renowned products, is private label kojic acid soap for whitening skin. Some of its prominent features are as follows:-
Concentrated formula. Its formula is concentrated, which helps in binding in the ingredients with coconut oil.
Moisturizer It helps in moisturizing and nourishing the skin as it seeps deeply into the deep layers of her skin which helps in hydrating our skin cells and conditioning them.
Even skin tone It reduces hyperpigmentation and appearance of age spots. It also acts as an antioxidant against free radicals and other damages caused by the Sun.
Skin Radiance Our skin radiance can be improved gently and by using it one can have a smooth texture of skin and beautiful complexion of face and body.
Amarrie cosmetics make sure that their products are made from natural ingredients. Their products are of high quality due to the perfect amount of raw materials that are used in them. Some of the natural ingredients used in making private label kojic acid soap are as follows:-
Kojic acid.
Coconut oil
Hyaluronic acid.
This face soap is a perfect blend of coconut oil and orange fragrance. There are natural ingredients in it which give even tone to the skin by removing dark spots, discoloration and other flaws.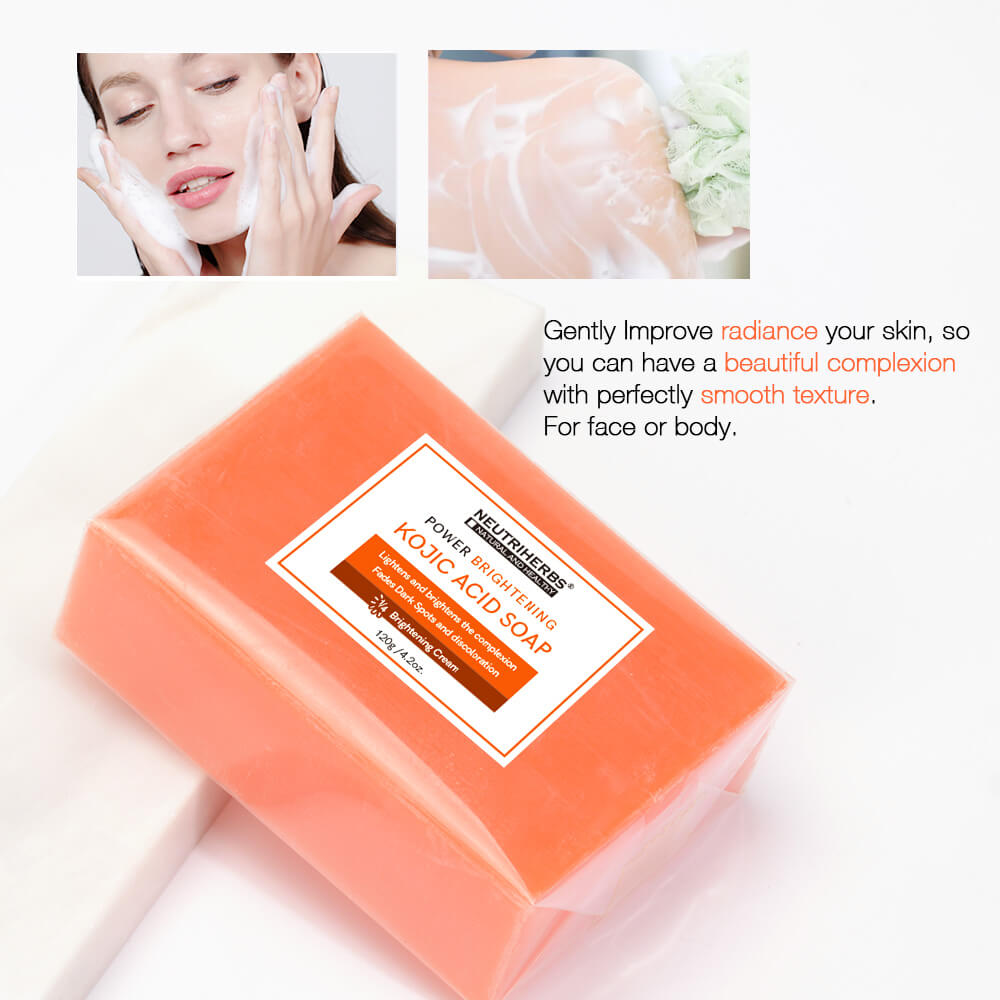 Benefits of kojic acid soap
Kojic acid whitening soap is one of the best-selling products of Amarrie cosmetics. This is because it has the following benefits.
It helps fight skin diseases like red Marks and scars.
It also helps reduce age spots and freckles.
It assists in tackling issues caused by sun damage.
It also acts as an anti oxidant against free radicals.
It whitens and tightens the skin.
In the long run, it moisturizes and conditions the skin.
Usage of kojic acid whitening soap:-
Firstly, Lather is made out of soap.
Then it is applied on that parts, which require treatment.
The soap should be left for 30 seconds.
It should be applied once a day or if needed, also can be applied twice.
If there are chances of dryness then moisturizing cream should be used afterwards.
Raw materials used in kojic acid whitening soap
The raw materials are imported from trustworthy manufacturers. Some of the major countries from where these quality raw materials are imported are the UK, USA, France, Germany and other countries. We have minimum quantity of impurities. We are in compliance with local and international rules and regulations.
Packaging of kojic acid whitening soap
We allow packaging in various forms. We allow the customers to choose a packaging style of their will. But that should be in accordance with the product's size and shape.
We guarantee high quality products which are 100% pure. Also, their natural skin products have minimum flaws or defects. All of their products meet international markets' demands. We have worldwide customers. We don't use anything synthetic or artificial.
Leave a comment