How Single-Dose Capsule Serum Work
If you know even a little about skincare, you must know that there are skincare products that are manufactured as capsules. They are not pills to be swallowed, like the ones you take for skin diseases. They are capsules you open up to rub on your face. Though this method might look a little weird, it is preferred by most skincare professionals, and they have their reasons why they prefer it. There are different ways in which these capsules work, and they have been talked about by several skincare experts. Continue reading and learn how thesecapsules work:
Delicate and volatile elements such as vitamin C serum and retinol work perfectly when used in this way. When the ingredients used to make capsule serum are exposed to light and air, they are prone to losing efficacy, capsules are placed in this system to act as a safe house guarding them againstlight and air. Also, capsules help to make sure users are guided by a particular dosage and not using more than they are supposed to.
They aid deliver the right amount of serum that should be used to give you prominent outcomes as time goes on.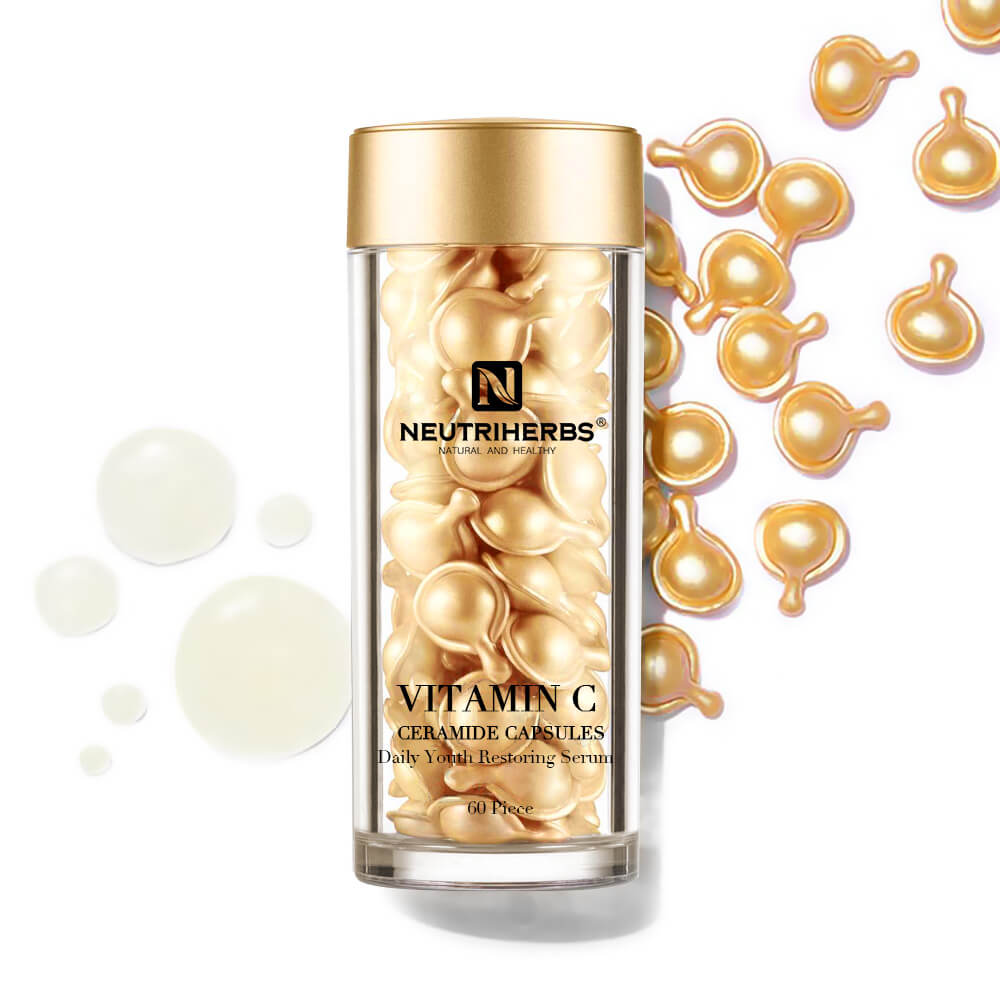 These are both ways how skincare capsules work on us. They work on protecting the ingredients that are crucial to your skincare routine and help you avoid the several risks you can face from using ingredients that have been exposed to the sun. They are much more portable and easy to carry around than squeeze bottles. Although putting these ingredients in capsules might seem like a mere trend to you, it is seen to be the best way to keep skincare products overtime. Based on what we have said here, we are going to introduce a particular product that could be of help. It is called the Vitamin C ceramide capsule produced by AMARRIE COSMETICS.
Private Label Vitamin C Ceramide Capsules Serum
As an antioxidant, vitamin C ceramide serum possesses thrice the anti-aging power that can avoid photo-aging for glowing, thicker, smoother, and more shining skin. The aim of Amarrie is to produce perfect, pure, and natural skincare products with no disadvantage and meet the requirements of every customer.
To create a skincare product that meets up with the requirements of the buyers both home and abroad, we have working non-stop to upgrade our production.
Our vitamin C serum can visibly enrich the glow on your skin, help you look younger improved skin boundary repair function, and enhance moisture in the surface of the skin. With our key ingredient vitamin C, you get benefits like skin toning and brightening, anti-aging, and antioxidant.
How to Use It
To open the capsule, twist the tab softly around twice and clampit into fingertips.
Put on cleansed face and neck. Use to massage your skin softly using upward, circular movements until completely absorbed.
Make sure to apply in the morning and night before applying moisturizers. The serum ingredients work exceptionally.
2 comments
Dear AMARRIE team,
we are intrested on the serum capsules
1.Capsule color Gold, Volume: 0.38 ml (Day Serum, Anti aging/ hydrating)
2. Capsule color black, Volume: 0.38 ml (Night Serum, Liposome/ceramid)
3.Capsule color blue, Volume: 0.28 ml (Eye Serum)
4. Capsule color green, Volume: 0.38 ml→ALOE VERA Extract, Retinol
5.Capsule color red, Volume: 0.38 ml→ Grape mark Extract
Fill base with Oil NOT with silicon and seum with natural Parfum
About us: we are Novoziel GmbH, a german skin care company and a part of Younan company in USA, with skin care Brand NEOVI. We are expanding and rebranding NEOVI and looking for a partner who we could trust them according the quality of work for a long time cooperation. Our priority is quality (german quality), Time and product price. Please send us the following informations:
1. Price for 500 and for 5000 pcs (30 capsules/ box)
2. Time for Sample Production/ alternative before 3D Renders
3. Time for Production
4. E-Mail and Maybe watsup number of your sale Manager for a faster connection
5. Do you have a design department for making the 3 D Renders or Packaging Design?
Thanks for your reply.
Neovi Team, Dr. Farnoosh Fathali zadeh
Dr.Farnoosh Fathali Zadeh
February 10, 2022
Dear AMARRIE team,
we are intrested on the serum capsules
1.Capsule color Gold, Volume: 0.38 ml (Day Serum, Anti aging/ hydrating)
2. Capsule color black, Volume: 0.38 ml (Night Serum, Liposome/ceramid)
3.Capsule color blue, Volume: 0.28 ml (Eye Serum)
4. Capsule color green, Volume: 0.38 ml→ALOE VERA Extract, Retinol
5.Capsule color red, Volume: 0.38 ml→ Grape mark Extract
Fill base with Oil NOT with silicon and seum with natural Parfum
About us: we are Novoziel GmbH, a german skin care company and a part of Younan company in USA, with skin care Brand NEOVI. We are expanding and rebranding NEOVI and looking for a partner who we could trust them according the quality of work for a long time cooperation. Our priority is quality (german quality), Time and product price. Please send us the following informations:
1. Price for 500 and for 5000 pcs (30 capsules/ box)
2. Time for Sample Production/ alternative before 3D Renders
3. Time for Production
4. E-Mail and Maybe watsup number of your sale Manager for a faster connection
5. Do you have a design department for making the 3 D Renders or Packaging Design?
Thanks for your reply.
Neovi Team, Dr. Farnoosh Fathali zadeh
Dr. Farnoosh Fathali Zadeh
February 10, 2022
Leave a comment