Amarrie Cosmetics
OEM Wholesale Thick Glossy Vegan Lipgloss Private Label Custom Lip Gloss
OEM Wholesale Thick Glossy Vegan Lipgloss Private Label Custom Lip Gloss
Supply Ability: 100000 Pieces/Month
Logo: Customized private logo available
MOQ:12000pcs, can mix 2 colors
Description:
1. A lightweight and no-tack texture
2. It is formulated with moisturizing ingredients to counteract dryness
3. Plumper lips, long-wearing color, and incredible shine for 8 hours
4. A pleasant plumping experience, Infallible Plumping Gloss gives your pout a voluptuous new look
5. Gorgeous, fuller-looking lips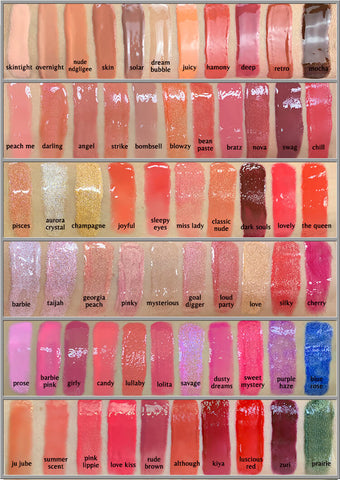 【SMOOTH AND SILKY & HYPOALLERGENIC】This liquid lipstick smell sweet like candy or fruit, so sweet. Moisturizing ingredients are added to the formula to give the lip glaze a light velvet matte texture that is as smooth and silky as velvet. You will not feel clumped or thick, and will not crack your lips.
【LONGLASTING & WATERPROOF】The color of this lipstick stays on your lips all day. It won't fade or transfer at all when you drink or kiss. But it's easy to clean with make-up remover.
【EXQUISITE & HIGH-END GIFTS】The color of this lipstick is mild and advanced, suitable for all seasons and any occasion, especially in the office, dating, party. Suitable for everyone, whether you are a novice makeup artist or a makeup artist. The packaging is small and exquisite, high-end exquisite, come to send family and friends or give yourself a surprise.
【VEGAN & CRUELTY-FREE】We have always advocated the protection of animals. Animals are our friends, so we will never do tests on animals.
Our company has its own factory, which can mass-produce lip gloss and other cosmetics. You can customize your own unique lip gloss at will. We also have custom packaging to create your personal perfect lip gloss. We not only have lip gloss, but we also have lipstick, eye shadow palette, mascara, and other cosmetics.
1. Keep away from children and fire sources.
2. Please place it in a cool place and avoid direct sunlight.
3. Due to the light effect and the color difference displayed on the web page, the actual color may be slightly different from the picture.
4. This lipstick is plant-based, hypoallergenic, cruel, and has not been tested on animals.
FAQ:
Q: Can you provide labels for my logo instead of printing it?
A: We do not offer labels for your logo. We use pad printing as the technique for decorating your logo on cosmetic packaging (this method has a nicer appeal).
Q: Why does the color of the sample I ordered look different on your website?
A: We do our best to accurately display the colors of our products, however just as makeup can vary in color on different skin tones, so can the display of colors in images viewed on different computers. This is why we always recommend purchasing samples prior to purchasing large orders and/or private label orders
Q: I only have a JPG image of my logo. Can you turn it into a vector graphic?
A: We can re-draw logos for you, with a turnaround time of about 2-4 business days.
Q: I don't have a logo. Can you make one for me?
A: If you do not have a logo but know the font you want to use, send us the font file we will turn your image into a vector file.
Q: What is the minimum for private label Lip Gloss?
A: 6000pcs. If you take large quantities, you can get the best quotation.
Q: What is the delivery date?
A: 35 working days for private label orders.
Q: Are your products tested on animals?
A: Amarrie Cosmetics is a very conscientious company that is proud to offer cruelty-free products. We never ever test on animals and we choose ingredients from companies that do not perform animal testing either.
Q: Are your products natural?
A: There are no official FDA standards for 'natural' in skincare or cosmetics. The majority of Amarrie Cosmetics formulas are a combination of safe mineral-derived, plant-derived and synthetic-derived ingredients which are necessary to improve the performance, stability and shelf life of the formulas so we can deliver the most effective, safe and luxurious formulas possible.
You also can send contact us: +86 15102049568  and get more choice about lip gloss private label. 
1
We never use any parabens, alcohol, phthalates, formaldehyde, triclosan, triclocarban, dyes and the list goes on. All the fragrances of our products are derived from plant extracts (flower, fruit, pericarp and seed ). Does not contain 26 kinds of allergen fragrances
2
We thought, what's the point of using so many amazing natural ingredients if you also include harmful toxins and common skin irritants.
3
" We use everything skin needs, nothing it doesn't." Our good-for-skin formulas are free of harsh chemicals and unnecessary additives, and full of botanical extracts that help improve skin's appearance.
" We use everything skin needs, nothing it doesn't."
Our good-for-skin formulas are free of harsh chemicals and unnecessary additives, and full of botanical extracts that help improve skin's appearance.
RAW MATERIAL
We are using the advanced technology from the global market to provide highest quality skincare products to the consumer. We only choose the best manufacturers of raw materials such as BASF, Ashland, Lubrizol, DOW CORNING, WACKER and CLARINAT ect.
Reasonable Qty & Affordable Price
As a manufacturer, the normal MOQ is > 5000pcs. However, for our first order customers, we can provide the MOQ 500pcs. High cost-efficiency is our goal to support all small-to-medium businesses. Only with this we will win together.
Quality
Our ingredients are natural, without any ingredients that harm the skin. Cruelty-free&Vegan free. Aseptic environment production, in line with GMP, ISO to ensure product quality issues.
Support
Professional design team service for you to customize your brand. Tube, bottle and box, all can be printed with your brand LOGO. The order be deliveried is not the end, it just start. The free marketing materials (photos & videos) can be provided for private label orders to quickly promote your brand.
Service
Professional sales follow up your order with high quality service. All your questions can be answered in time to speed up the order process.
Launch Your Brand Today
Get in touch with our team today to get more information, FREE SAMPLES, and start the process of launching your brand.